The Right to Play Project
The Right to Play
Children have a want, need and right to play. It is enshrined in the United Nations Convention on the Rights of the Child (UNCRC, 1989). Children having sufficient amounts of time, space and permission for play brings with it a wide range of benefits both in the moment and longer term.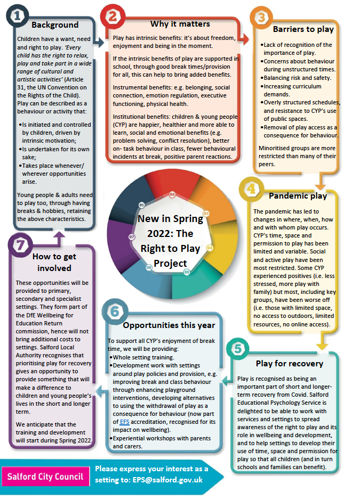 The pandemic has led to changes in where, when, how and with whom play occurs for many children. Active and social forms of play have been most restricted, with children from minoritised groups potentially experiencing the greatest of restrictions. This is on top of decades of diminishing access to play for many children. For these reasons, Salford Educational Psychology Service, as part of the Department for Education Wellbeing for Education Return commission is prioritising play for recovery.
We have developed whole school staff training sessions, for primary and secondary, including specialist settings. The session involves thinking about what play is, its link to the UNCRC, the benefits and barriers to play, and thinking about opportunities to best support children's access to their right to play in school. The project is also being extended to our partnership Tameside and Bury Educational Psychology Services.
Part of the project for us as an Educational Psychology Service also involves us reflecting on how we can embed this within our practice. We have developed a Position Statement, which outlines the importance of play, its many benefits, and the ways in which we are committing to promoting it within our service. Please see our Right to Play Position Statement. 
We hope that through promoting access to the right to play in how we collaborate and work with schools, children and young people, parents and carers, and fellow services, we are going to be able to make a difference to children and young people's lives in the short and longer term.
a flexible, whole setting approach to improving children and young people's mental health and emotional well-being